Rachel Jones
BSc Hons Chiropractic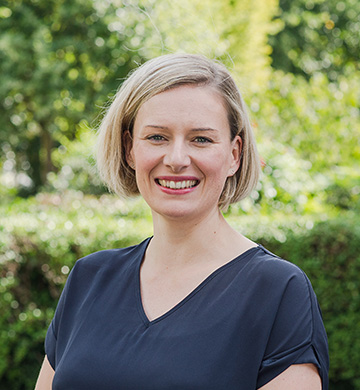 Since graduating in 2006 with a 1st class degree in Chiropractic, Rachel Jones has been dedicated to expanding her scope of practise and regularly attends courses and conferences. Rachel believes in educating her patients to best understand their problem and how they can help themselves. She encourages good posture and gives exercises to her patients to help achieve this. Nearly everyone can benefit from chiropractic treatment and Rachel's scope of practice ranges from children to people in their 90's.
Rachel joined the BCC team in August 2012 having worked in Chester, England for 6 years. Her enthusiasm for Chiropractic and helping her patients get out of pain and stay out of pain never wains.
During her pregnancy Rachel benefitted from the therapies within the clinic and knows 1st hand the difference great care can make. Having a balanced pelvis through regular Chiropractic, CST and massage care, kept her active and mobile throughout pregnancy and was helpful for recovery from birth. Rachel's daughter also benefits from care too.
After having her daughter and with a desire to return to sport, Rachel wanted to rehab her core strength. Hypopressives made a big impact, Rachel has completed her training to teach her clients how to also get the benefits and improve their posture and core strength in a safe low impact way. Hypopressives can help with pelvic floor weakness, core strength issues, diastasis recti and improve posture.
Rachel regularly helps expectant mums with different issues, like pelvic girdle pain and postural related issues brought on by pregnancy. We have Belloost pregnancy cushions, making lying tummy down comfortable and safe.
Having felt the benefits of Cranio sacral therapy Rachel attended Upledger training and incorporates this into her Chiropractic sessions where appropriate.
Coming from a sports background Rachel has a keen interest in treating sports related injuries. She has worked along side rugby clubs, regularly treating triathletes, body builders, runners, cyclists, footballers, rowers and gymnasts. Her own experiences competing in Tetrathlon (running, shooting, swimming, horse riding) for Wales and the UK means she knows full well the frustration of injury and the difference excellent chiropractic treatment and rehabilitation can make.
In summer 2019 Rachel had an accident on the cycle stage of a triathlon which resulted in a broken shoulder and a few broken ribs. Thanks to the outstanding care she received from her colleagues she was on the road to recovery and back to work and activity in a short time.
Interested In
Joining Our Team?
Join one of Northern Ireland's most respected Chiropractic and Complementary Therapy clinics today.