Gareth Toner
Biodynamic Cranio-sacral Therapist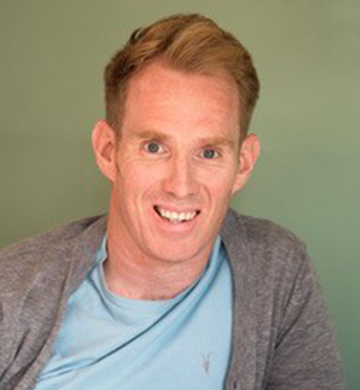 I'm Gareth Toner, a teacher and bodyworker. My goal is to help people feel and relate to their body, enabling a deeper relationship with ourselves, people and our environment. In a reciprocal relationship with self, others and the world we live in less pain, disconnection, stress and anxiety.
I have completed training programs in body-based relational approaches that integrate trauma-informed neurobiology with the art of deep listening, touch, presence and body awareness. The foundation of my clinical practice is based on the principles of biodynamic craniosacral therapy (BCST).
Before transitioning into the world of body-based practices I was a Physical Education Teacher. Now I work full-time teaching others about the wonders of the human body and how we can creatively feel and reorganise our health from within, running regular clinics within Northern Ireland and facilitating groups both online and in-person throughout Europe with Body Intelligence Trainings.
My clinic and teaching approach embodies and conveys the complex principles of health in an accessible, gentle, compassionate and simple way.
Additionally, I teach individuals and hold workshops introducing individuals and groups to 'Tension and Trauma Releasing Exercises (TRE), a self-regulation tool supporting health. Also, Embodied Listening with the Elmfield Institute. I am a Registered Craniosacral Therapist with the Craniosacral Therapy Association in the UK. Also, a registered TRE Provider and Mentor with TRE For ALL
During my time as a Physical Education Teacher, I suffered from chronic pain. This is now eliminated through self-education, lifestyle change and the support of many. I resigned from teaching in schools so I could help others with their pain. I am now forever curious on how we can creatively reorganise our health through feeling and connecting to our bodies. Continuously exploring what it is to be human and fully occupy a body in the modern world.
Studying Sport Science, Exercise Physiology and teaching physical education provided a sound platform of knowledge after I left school. Though I continued to suffer. My experience of pain and a yearning to find greater health led me to yoga and other body-based practices, teaching me to 'slow down, rest and feel'. Finding and studying cranial work brought me home to my body for the first time. The contemplative practice of deep presence, witnessing another and being witnessed informed me to perceive the world, my body and my relationships through a different lens. Cranial work still never ceases to amaze me and how it supports physical, psychological and emotional wellbeing.
My Cranial practice, a trauma-aware bodywork that is informed by embryology, modern neuroscience and pain research lays the foundations of my clinical practice. In clinic I educate and support the down regulation of overwhelmed nervous systems derived from stress, pain and trauma. I use relational touch and deep embodied presence to guide and ground awareness to the body. In this deep relational space, something always happens!
TRE and Safe and Sound Protocol (SSP) Training - The curious mind wondered again. I first explored TRE with Steve Haines whilst I was studying in 2013. I completed the certification process in 2015. A set of simple exercises that stretch and stress the muscles of the body to release held tension patterns from our body's physiology. How simple but yet profound!
Studying TRE deepened my understanding of trauma models and the physiology of stress and how we disconnect from our bodies. An adaptive survival response to stress, pain and trauma. Integrating TRE into my clinical practice allows people to practice body awareness and develop the skills to promote self-regulation alongside other professional therapeutic relationships.
The common thread throughout my clinic work and teaching is supporting people to 'feel safe' in themselves and the world. This vision is underpinned by Dr. Stephen Porges research that culminated in the Polyvagal Theory or 'the science of feeling safe'. This key research, delivered simply, helps people to better understand their challenges and how their autonomic nervous system adapts to a complex, uncertain world. I trained in the Safe and Sound Protocol (SSP) in 2020, a non-invasive listening application of Polyvagal Theory helping people to regulate their nervous system more consistently and independently.
Living and feeling my way as I navigate the tides of life sustain and nourish me, so living by the principles of health that I embody you will find me by the sea and mountains in Newcastle, Co Down. A daily sea swimmer, moving in nature and connecting with others over a coffee support this. I also have ventured into exploring other environments in my refurbed campervan allowing me to deepen into the slower and natural rhythms of everyday life. Living authentically and relating to the world is important to me, so you will also find me coaching my local football team, where my 20 Year son Fionn plays whilst also leading community-based projects with various groups within the local charity MYMY.
Interested In
Joining Our Team?
Join one of Northern Ireland's most respected Chiropractic and Complementary Therapy clinics today.