Kamil Bialon
Massage Therapist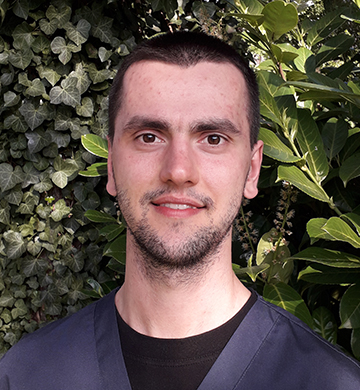 Kamil Bialon is both an experienced and intuitive Massage Therapist who trained in the South of Poland. Kamil practice style is guided by the client's presenting needs as he can vary between the 1) deep tissue/sports massage techniques to 2) specific light touch massage techniques and 3) lymphatic drainage massage and 4) sound therapy massage.
Kamil graduated with a Bachelor Degree in Commodity Science and Masters in Production Line Management at University of Economics in Cracow in 2016. He then followed his passion for the healing arts and graduated as a Massage Therapist from the Public School in Kracow in 2018.
Kamil also uses Sound Therapy as he is trained in the Peter Hess Sound Massage in which he uses metal singing bowls which is a scientifically proven method of sound therapy
He has gained extensive experience working in hospitals and Healthcare centres and Spas in Poland prior to working in Northern Ireland. Kamil has enjoyed working on clients from different sporting backgrounds - eg runners, cyclists and footballers. Yet he can sensitively support those patients post surgery as he uses lymphatic drainage techniques in order to relieve their pain and discomfort

Kamil likes to use his wide range of massage techniques to ease and relieve tension and stiffness (deep massage), stress and anxiety (relaxation/sound massage) and to assist the reduction of excess fluid after surgery (lymphatic drainage).
Kamil is from the South of Poland and he loves nature, walking and hiking as well as climbing. He regards himself as a positive, open-minded and a calm person who is eager to learn by helping others. He has committed to a daily practice of meditation and yoga since he was at High School as loves self-development and spirituality.

In his spare time Kamil also practices the Wim Hof method, which consists of breathing, focus and visualising, together with cold immersions as with cold showering or swimming in freezing lakes.

Kamil is also very interested in the human's adaptation capabilities and epigenetics or anything which is related to 'consciousness versus reality'.
Interested In
Joining Our Team?
Join one of Northern Ireland's most respected Chiropractic and Complementary Therapy clinics today.